Move to the sound of a strong wind, under warm rays of sun reflecting in the clear water and watching this delicate, but at the same time, amazing landscape, is definitely an exciting experience that you can only try out at the Archipelago of Los Roques.
Los Roques is a tourist place that offers the best facilities for kitesurfing in Venezuela. Those who dare to take this magical journey on these calm waters, will find some schools ranging from the most basic level and also providing rental equipment for the tourists.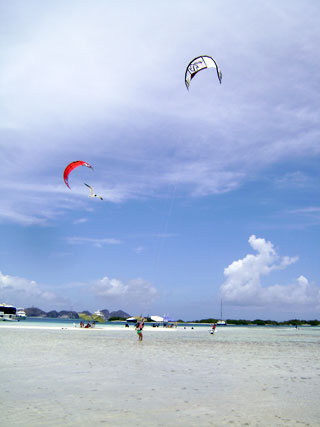 This sport mix surf, windsurf, wakeboard and parasailing, which consists of sliding a table on the sea, while at the same time, you are pulled by a comet or kite that you can lead with the help of the wind. The core equipment consists of a table, a comet, the address bar, 2 or 4 strings that hold the kite and harness.
42 islands or keys to kitesurf on completely flat water, trade winds blowing strong most of the year (November-June) and two coral reefs that protect pristine beaches of Los Roques, are part of the dream offered by the archipelago conditions for kite surfing.
If your travel is not just relaxation and want to include in your itinerary fun, exercise, excitement and a new way to explore the keys aboard a surfboard, all you need to do is contact us to offer you everything you'll need go on board for this magical and extreme aquatic experience.
Discover more about this Caribbean paradise! We got a lot of information about Los Roques!, packages and deals, the posadas or hotels in Los Roques, what to do in Los Roques, islands and beaches and finally, tips and recommendations.
Contact us!
You may leave us a comment here at the end of the page or send us a whatsapp message at +58 424 216 13 03
contact us by email
for information about our packages to travel to the Caribbean in
Los Roques
, to the jungle with our tours and expeditions to
Canaima and Angel Fall
or to
La Tortuga Island
! and if you are a travel agency (in Venezuela or any other country) we got special prices for you...