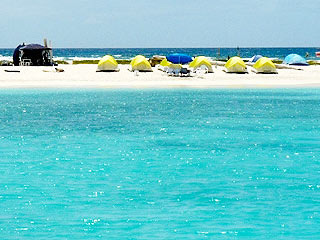 Do you want to know an off the beaten venezuelan tourist destination? Come with your friends or family to the beautiful Island La Tortuga! Here we got the prices and packages updated for 2012.
You got two options to select the one that better suits your needs :) On speed boat or yacht... both all meals included.
Set up your group and come to enjoy a few completely different days in this Caribbean paradise!
Remember that the minimum of persons needed to make this trip is 12 persons and here we detail the updated prices and packages for this 2012:
1Traveling on speed boat
Sailing time: 6 hours aprox
2days/1night

USD $145 per adult

USD $105 per child

3days/2nights

USD $215 per adult

USD $185 per child
2Traveling on a yacht
Sailing time: 4 hours and a half aprox
2days/1night

USD $185 per adult

USD $125 per child

3days/2nights

USD $275 per adult

USD $190 per child
Both depart from Buche in Higuerote and their maximum capacity is 20 persons for each one of the options.
What's included on the package?
• Sea transfer from Buche (Higuerote) to Herradura Island (La Tortuga).
• Dinghy for transfer from the speed boat or yacht to the beach.
• All meals: breakfast, lunch and dinner.
• Accommodation in tents with mattress: the staff will set up the camp and each tent :)
• Roofed dining space: big tent with chairs and tables for the meals.
• Ice and soft drinks service.
• Bathroom, quick shower and music on board.
What's NOT included?
• Transfer to Higuerote (Buche).
• Accommodation the night before in Higuerote.
• Sunshade, chairs or towels.
• Bedlinen or pillows.
• Equipment for water activities: snorkel, diving, kitesurf, etc.
Other notes
Meeting time at 5:00 pm on Buche port (Higuerote) to depart maximum at 6 in the morning (both cases, speed boat or yacht).
• Minimum 12 persons for the boat or yacht to do the trip and a maximum capacity or 20 persons in both cases.
• At Buche's port there's a car parking at no cost.
• Breakfast on the day of departure is a simple one, it can be an arepa with jam and cheese.
• Recommendations: take a hat, sun protection, long sleeve t-shirt, mosquito repellent, sweater and long pants, flashlight, small ice box, blanket, sleeping bag, camera, snacks and beach chairs and sunshades.
Here we got more tips and advices for your travel to La Tortuga Island!